Update:
April 2011:
I wanted to link up with IHeart Organizing post showing how we use one room for multiple uses. One room in our basement is my craft room, the kids' toy room, my office AND the music room. Since these pictures in the post were taken, we have added Christian's drum set and amps and guitars down there. A few things have changed also, but it gives you a good idea of how things are down there. I am dying to get a room of my own, but until then, we make do with what we have.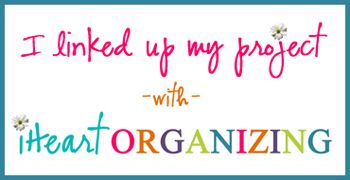 Every month over at
Organizing Junkie
she does a monthly roundup. She chooses a room in the house that you totally organize and clean and make all wonderful and great. Every month I mean to do it. Every month I suck. But this time...this time is different. Her October room was the craft/sewing room. I was so excited for this one. My new area is wonderful. It has been a work in progress for more than a month, but at this point in time, I am pretty much done. I will probably move things around a lot as I am down there more actually doing the stuff I want to do. I have stuff put places now that will probably make no sense when I need to get to them. So without further ado, step back in time with me when my basement looked like this.
I can't believe I am showing the world my dungeon. I hated the basement looking like that. It was just too easy to pile stuff down there instead of finding a place for it. But now..oh, but now...so different.
My craft room is not only my area, but Marcus' office and the kids' toy room. It works out well though; I can be down there crafting or sewing and the little ones can be playing. It took us forever to get this area the way we liked it. I love being down there, but I don't want to mess it up!! Some of the pictures were from my Happy Thursday post, (since the work station was my present) but for those nuts like me that love organization and have OCD issues and get their kicks off organized areas, here are some more detailed photos.
This is the pegboard Marcus made for me. I am still moving stuff around daily trying to find the perfect spot for everything. I have seen on a couple of other posts people who have cute little baskets on their pegboard. I want to find me some now.
The cork board comes in handy for displaying cute pics of my little ones. It will also come in handy if I am trying to copy an idea or need to refer back to something a lot.
Marcus mounted this shelf on the wall for my bigger items. I also have my cds for my computer and the tackle box is full of stamps and stamp pads.

This is the bottom shelf where I keep my albums. I have a child proof lock thing on it...it doesn't get open often. It must be Monica proof too...I struggle opening it.

Finally a place to store all my paint and some stamps. The other stamps I have are in the tackle box that is on the top of the wall mounted shelf.
This area holds all my unfinished projects and pictures....there are so many. I need to devote a whole weekend to finishing projects.
This is a wall in the kids' play area that I am going to paint with chalkboard paint. I was worried about how they would differentiate this wall from a non chalkboard painted wall. I am going to make a big square that we will frame in and paint. That way, they can see the difference and HOPEFULLY no chalk on my walls upstairs. If that doesn't happen, I give Marcus permission to say, "I told you so!"

Maybe someday we will actually put walls up and officially finish downstairs. But for now, this works. I am not as concerned about what goes on down there...there isn't much to ruin...just don't touch my stuff and we are all good! :)
Organizing Junkie has been doing a different room all year. I think I a may go back to her previous roundups and do each room. I love the way it feels when I finish a project. Her next room is the laundry room. Oh boy! Do I have ideas for my laundry room. Unfortunately they will have to wait. There is this thing that is green and paper and needed to buy things...maybe next year.